Below is a list of our current party rental products. We are constantly updating and adding items to our inventory, so if you don't see what you need, just ask. If we don't have it, chances are we know someone who does!
Dance Floor & Misc Party Rentals
Portable Bar Rental (Cambro)
$75 each
The Cambro portable bar has a clean look and is perfect for any wedding or event. It includes a built in bin for ice, a cutting...
Portable Bar Rental
$99 each
This wood bar is really unique and was custom made for the former owner of the Manning House here in Tucson. It has...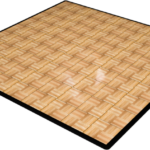 Dance Floor Rentals
$1.35 per square foot

We use the Snap-lock dance floor system. It is a wood vinyl material and allows for almost any size as it can be broken...
Stage Rentals
$80 for each 6 x 8 section
These stage risers come in 6x8 sections and can adjust from 1' to 2'. Skirting and riser steps also available...
Patio Heaters
$75 each
The outdoor patio heater works well for those cold nights and will keep your guests warm. The heater comes with...
Arch
$70 each
This arch has a gently curved top, latticed sides, and delicate detailing. It is perfect for your outdoor ceremony.
PA System
$120 each
The PA system can be useful for any event where you want to make those memorable speeches or if you want to...
LCD Projector and Screen
$125 for set
Play your wedding guests a video montage, present that important power point, or use it in a classroom setting...
EZ Pop Up Tent
$60 each
Our EZ Pop up Tents are 10'x10' and are great for craft or trade shows. They can also be useful when you need...
Garbage Can
$7 each
33 Gallon, comes with 1 liner per can.
Metal Drink Trough
$20 each
Various sizes available.
Ice Chest
$20 each
180 quart